Buffalo collection firms are part of an industry that too often uses threats and lies to collect millions in unpaid bills

By FRED O. WILLIAMS
News Business Reporter
7/23/2006

Joel Castle, a debt collection pioneer in Buffalo, says some agencies need to be reined in. "There have been people in the past that have crossed the line, (but) I've never seen it as bad as now."
Buffalo debt collectors are spreading havoc. They coerced Sally Beckmann to pay $5,300 in credit card bills - and it wasn't her card. They rained calls on Nadine Frankenfield as she tried to recover from lung surgery, then denied it. And they told Barbara Roan to pay her ex-husband's $7,300 debt or go to jail.
"I was afraid to open my door because there might be a cop there to arrest me," the Illinois grandmother said.
People don't get sent to debtors prison anymore. In fact, it's against the law for collectors to shake people down with false threats and harassment.
But that's what some collectors - even law firms - are doing. And Buffalo, a hub for the collection industry, is prominent in debtors' complaints.
"There must be something in the water in Buffalo that makes people mean," said Dale Pittman, a Petersburg, VA., lawyer who has sued area agencies. In a six-month investigation into the debt collection industry, The Buffalo News found:
Complaints filed with federal regulators have quadrupled in four years - led by people who say they don't owe money. State regulators also see surges in complaints.

Banks sell their old debts on a wide-open market and then turn their backs on illegal and unethical collection tactics.

The $1,000 civil penalty faced by unscrupulous collectors has been the same for 30 years, making aggressive tactics profitable.
"The whole nature of the industry is there are incentives to be aggressive," said Peggy L. Twohig, an official in the Federal Trade Commission's Bureau of Consumer Protection. "The collector makes more if they collect more debts - the incentive is there to cross the line."
Agencies usually keep 10 cents to 50 cents of each dollar they collect, and their workers earn more the more they bring in.
Collectors say that deadbeats file groundless complaints to wiggle out of paying and that real abuses are a tiny fraction of the calls they make.
The consumer outcry "is largely due to the fact that there's a tremendous amount of bad debt that's being referred to collectors," said Rozanne M. Andersen, general counsel of ACA International in Minneapolis, formerly the American Collection Association.
Consumer debts are up 16 percent since 2001, and last year's bankruptcy law changes will make it harder to erase them. Collection agencies have added almost 10,000 jobs in the past four years.
But an increase in dunning calls isn't the whole story, consumer advocates say.
"When you compare the amount [collectors] pay for lawsuits compared to what they collect, it's a cost of doing business," Amherst consumer lawyer Kenneth Hiller said.

Fingers point at Buffalo
Consumers are howling about abusive tactics. And while Buffalo collectors are hardly the sole culprit, many fingers are pointing in this direction.
Watchdog agencies in Maine, Idaho, Colorado and New York have come down on Buffalo-area firms, while the FTC collects more than 500 complaints a year about the area.
Consumer lawyers say Buffalo is driving many clients like Beckmann, Frankenfield and Barbara Roan to their doors. Roan laughed, at first, when the woman from Lenahan Law Office told her to pay $7,300 for her ex-husband's six-year-old credit card bills. She hadn't spoken to him for years. But the caller said she faced a criminal charge.
"She finally got me convinced," Roan said of the collector. "She kept telling me I needed a lawyer because I was going to jail - I was such a nervous wreck I went to the doctor."
Besides going on antidepressants, the incident also forced her to contact her ex-husband for the first time in years - to ask if he had accused her of fraud. "I didn't want to [call]," Roan said, "but I wanted to find out what was going on."
When another Illinois woman came forward with a tale of similar threats, a federal judge fined the Buffalo-area firm the standard $1,000 federal penalty - plus $150,000 in state punitive damages.
"Why has Buffalo become the debt collection capital of America - the steel mills are gone and this is what they chose to replace them with?" asked Richard N. Feferman, a New Mexico lawyer and Eggertsville native. "It's an industry that's a little out of control."
The phrase "Buffalo-style collecting" appeared in a New Jersey newspaper, the Randolph Reporter, in February as a synonym for tough tactics.
The industry shows a different face to the local economy. One agency owner wears the license plate "WELUVDBT" on his Land Rover. That could be the motto for the entire region: Call centers from downtown Buffalo to rural Wyoming County make this one of the collection industry's top 10 hubs. The offices employ some 5,000 people, and the pay is good. Workers earn $34,000 a year on average. A grateful state gave $1.4 million in taxpayer money to area agencies since 2002.

"Collections is a legitimate industry - it's not run by a bunch of thugs," said Larry Costa, marketing vice president at Capital Management Services in Buffalo.
A few bad apples?
The region hosts some 43 collection agencies, including an office of the nation's biggest, NCO Financial.
The actions of a few companies shouldn't tarnish the industry's reputation, Costa said. "There are good, highly reputable firms here," he said. "There may be ones that are questionable, but that's not unique."
But other collectors called for stronger enforcement to rein in harsh tactics.
"The FTC and the attorney general haven't really done what they should be doing," said Joel Castle, a second-generation collector and a founder of the industry's Buffalo presence.
"There have been people in the past that have crossed the line, [but] I've never seen it as bad as now with these law firms that are in collections," he said.
Several collection offices that operate as law firms around Buffalo are using abusive tactics, according to regulators and consumer lawyers around the country. The owners of Lenahan Law Offices went bankrupt in December under the weight of court penalties for collection abuses. Giove Law Office was banned from collecting in Idaho for threatening debtors with criminal charges. Collins Law Office agreed to stop calling Maine consumers after a crackdown by state consumer officials.
Officials also point the finger at some of the area's oldest and largest collectors. Creditors Interchange in Cheektowaga paid New York's attorney general $60,000 in 2003 to settle complaints about revealing people's debts to outsiders. The next year, Minnesota fined the company $10,000 for false threats and other violations.
Even industry leader NCO Financial, with an office in Getzville, has come under fire. In January the company paid $300,000 to Pennsylvania's attorney general to settle 800 complaints from around the country.
NCO and Creditors Interchange denied wrongdoing.
Collection is a necessary cog in a debt-fueled economy, but collectors who push too hard can jeopardize jobs with a barrage of calls to the office, damage reputations by revealing debts to outsiders and make people cower in their homes with fear.
Even worse, the pressure isn't reserved for debtors. A growing number of people say they're being hounded for money they don't owe. At the FTC, 42 percent of complaints charge that collectors had the wrong person or demanded extra money.
Paying another's bills
Seattle-area resident Sally Beckmann paid $5,300 in credit card charges in 2004 after a collector convinced her she was on the hook for her sister's bill.
"They threatened to garnish my wages and put a lien on my house," the supermarket worker said. "They had so much information, I just believed it."
The collector said her sister put Beckmann's name on a credit card application, but the sister denied it and took the collector to court. Beckmann wound up getting her money back when her sister settled with Giove Law Office in Niagara Falls. The incident tore a rift in her family, she said.
"I had put out $5,500, so I was a little irked," Beckmann said. "We wanted to retire - this put a wedge between us. It was bitter for a while."
Rodney A. Giove denied wrongdoing in court papers and didn't respond to inquiries.
Abusive practices can spread quickly, one Buffalo-area worker said. "There's so much money to be made, it's easy to cross the line," he said. At this worker's office, managers gave lucrative accounts to top performers while turning a deaf ear to their tactics. Aggressive collectors pulled down bonuses of $4,000 a month and threats became common, even though managers officially denounced them.
"The bottom line was how much money you were putting on the board," the worker said. "I heard collectors threatening children on the phone [that] the marshals would be there to take their mother and father away."
Mere telephone calls - even threatening ones - may seem harmless, but they can squeeze some people like a vise.
Nadine Frankenfield was resting at home in Bethlehem, Pa., after lung cancer surgery when a collector barraged her with angry calls. When she told him to stop because she was short of breath, the man said he "didn't call to hear about your lungs," she said in court papers.
The company, National Action Financial Services in Amherst, denied making the calls, but phone company records showed seven calls on a single day in 2003.
Frankenfield's court case turned up a training booklet that urged workers to exploit "gray areas" in rules against false threats by using "hypothetical statements" instead of explicit threats. Company officials didn't respond to questions.
Collectors explain surge
Industry representatives aren't convinced that abuses are growing. Friction with debtors is a fact of life in the collection business, and a slowdown in the rise of FTC complaints last year shows the trend is "turning the corner," Andersen of the industry association ACA said.
While collectors say that deadbeats use complaints to skip debts, consumer advocates say that many other people face threats and harassment in silence.
Buffalo isn't just a source of the problems, it's also a target. Metro area residents filed 121 complaints about collectors with the FTC last year, among 2,700 statewide.
Industry rolls on
Fighting with consumers isn't hurting the collection industry's growth. In Erie County, jobs leapt 35 percent in three years through 2004, and agencies say they're poised to expand further. Since Jan. 1, four collectors announced expansion plans that could add another 855 workers by 2008.
"In bad economic times, business is good. In good economic times, business is better," said Castle, the former head of Great Lakes Collection Bureau, one of the nation's largest agencies before he sold it in 1997. Now he's starting another agency in Amherst that he says will grow bigger than Great Lakes.
"There is a bubble coming down in debt," he said, "that I think is going to be unprecedented."
Merchants of Debt - Part 2
'I tell everybody, 'Leave your heart at the door. This is a business.' '
7/23/2006 Harry Scull Jr./Buffalo News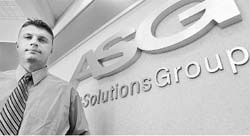 Eric Boryszak, a star collector at Account Solutions Group in Amherst, said you need a thick skin to make it as a debt collector. "I've been called a lot of different names in the book. I don't take it personal."

Tall and lean with piercing gray eyes, Eric Boryszak has the charisma of a natural salesman. Not that it helps in his job. He never meets the people who ultimately provide his living - people with unpaid car loans or credit card bills. They only know him from his businesslike voice on the phone.

The voice is enough. It brings in about $1 million a year of unpaid debt, putting Boryszak among the stars at Account Solutions Group, an agency with 580 workers where some collectors earn six-figure checks.

A thick skin is required.

"I've been called a lot of different names in the book," the 38-year-old said. "I don't take it personal."

Debt collectors have a tough-guy image, and lately complaints about the industry have exploded. But the people making the calls reject the stereotype of a burly, cigar-chomping tyrant.

Collectors say they're just trying to make a living under sometimes extreme conditions. They're under pressure to bring in thousands of dollars a month without resorting to threats or snapping back at irate debtors.

"Rarely do I raise my voice," Boryszak says. "If it gets to that point, I get up and walk around."

The Tonawanda resident is one of the thousands of people who make Western New York a hub for debt collection. The industry journal Collections & Credit Risk recently profiled the area as a mecca, and the numbers bear out the claim.

Erie County had 3,600 collection jobs in 2004, putting it among industry centers like Houston and New York, according to the U.S. Bureau of Labor Statistics. Add another 1,100 jobs at Pioneer Credit Recovery in Wyoming County.

Low rents and wage rates make Buffalo attractive for call center businesses, including collections. Beyond that, agencies here say they actually benefit from the region's harsh winters, which keep workers at their desks during tax refund time - prime time for collecting debts.

Area collectors "work paper" for retail chains, car finance companies and credit card issuers like Capital One and Bank of America. Agencies' help-wanted ads offer jobs with no experience necessary - sometimes to people who are "aggressive, assertive and $$$$$$$ hungry."

Former truck driver Jim Kuklewicz carved out a living as a collector when a layoff snuffed his job at a linen service in 1994.

"After a month I was ready to quit because I didn't think it was for me," he said. A manager turned him around and now, at age 46, he is a manager at Northstar Group in Amherst, making $70,000 to $100,000 a year.

Kuklewicz coaches struggling collectors to improve, and his advice is stern. "I tell everybody, "Leave your heart at the door. This is a business.' "

Some collectors say their companies boost results by tacitly encouraging hardball tactics beneath a facade of upright behavior.

When he went to work at Redline Recovery in Getzville, Frank J. Bennett received a squeaky clean telephone script to use with debtors.

That was in training. In reality, the rules against threats and harassment went out the window in the fervor to bring in money, the Youngstown man said.

"They're so hungry for profits they'll cut every corner," said Bennett, 44.

One collector urged a woman to get her son to pay his debt, Bennett said. Others mocked the spiritual message on a debtor's answering machine and used racial slurs in conversations that could be overheard by debtors, he said.

When Bennett objected, he was told to ignore what he overheard. He said he was fired in June after run-ins with managers, having failed to meet his monthly goal of $3,500.

Joseph Moran, head of the Georgia-based company's Amherst office, denied running roughshod over collection rules, saying that would put his company at risk.

"Our clients are national banks," he said. "If we get ourselves in trouble, they will pull their business."

Collectors' bland-looking call centers are really pressure cookers, workers say. While top performers earn big money, others burn out from sparring with debtors - or bail out after struggling to meet quotas. How much, or little, they have collected is displayed on white boards for co-workers to see.

"It's competitive," a Buffalo agency official said. "If your name's not up there, you've got some explaining to do."

At Account Solutions Group in Amherst, Boryszak watched batches of former co-workers fail. "You have to have - I don't want to say an edge - you have to have control of the conversation," he said.

On the first day of one recent month, he was at his cubicle before 8 a.m., getting ready to call 87 BMW drivers. Or rather, ex-drivers whose bimmers had been towed back to the lot. Boryszak's voice was hoarse, having worked the previous eight days leading up to the end-of-month "closeout," when bonuses are determined.
At the end of a month "I'm walking out of here thinking, "God, I'm beat' - then you come in the next day and you've got to start all over again."

- Fred O. Williams
---
Merchants of Debt - Part 3
Rogue debt collector operated under watchdogs' noses—with taxpayer money By FRED O. WILLIAMS News Business Reporter
7/24/2006

Edmund Vandeganachte of Albion was threatened with arrest and prosecution by a debt collector from Ohio, over a bill he believes he paid. He sued the collector and settled for an undisclosed sum.
Lenahan Law Office didn't look like an ordinary law firm.
It had six offices around Buffalo, 100 to 200 debt-collection workers, and just three lawyers.
Then there's its court record. Not cases it worked on, but civil charges against it for alleged shakedown tactics.

More than 30 people across the country - including Maine's attorney general - alleged that Lenahan bullied debtors for money, even when they didn't owe a dime. One judge called its tactics "egregious."

A dozen courts gaveled down judgments totaling $800,000, but the firm's owners filed for bankruptcy in December before paying the penalties.

Collectors say they face tight regulation under debtor-protection law, but Lenahan's story raises questions about the power of watchdog agencies to stop abuses.

"There always seem to be rogue debt collectors who consider [penalties] to be a cost of doing business," said Robert J. Hobbs, deputy director of the National Consumer Law Center in Boston.

Steve Tripoli, a spokesman for the center, added, "There's a new breed of company that has figured out there's very little chance of penalty from breaking the law."

For years, the Lenahan offices collected a million dollars a month or more while leaving a trail of browbeaten people from Maine to California, regulators and court records say. Now some of the former Lenahan offices continue to operate under new names.

And instead of cracking down on the abuses, public officials might have subsidized them with taxpayer money. In 2003, agencies handed nearly $600,000 in job grants to a Buffalo company whose owners are accused of being the real operators of the collection outfit.

"Why do these guys with a dismal track record and a staff of two-bit thugs . . . deserve a half-million dollar grant?" asked one California woman who was harassed by a collector with a wrong number. Maine's attorney general says that a company called Account Management Services and its owners, Mark Bohn and Douglas MacKinnon, operated the collection business under the Lenahan name.

"What we have seen in your area are companies that are, by all appearances, simply debt collectors but have connected themselves with some law firm, said William N. Lund, director of Maine's Office of Consumer Credit Regulation.

The collectors get the leverage of a law firm's name, as well as cover, to avoid blame for abusive practices, Maine officials said.

Bohn said his company buys up bad debt and hires lawyers to collect, including 18 firms around Buffalo. Lenahan was what he described as a "pre-litigation" firm that collected debts with little courtroom work.

Bohn denied that his company ran the Lenahan operation but acknowledged that it did provide office space. He was disappointed with the firm's record of complaints, he said, and both companies agreed to part ways last summer.

"I can tell you it was a life lesson learned about attorneys and how to monitor them," he said during an interview.
Getting taxpayer money
While it squeezed money from debtors, the Lenahan operation might also have collected from taxpayers.
In the spring of 2003, Bohn and MacKinnon created a company called Account Management Services of New York LLC that quickly won approval for nearly $600,000 in public subsidies. The company was based at a building on Great Arrow Drive in Buffalo, a call center it shared with Lenahan Law Office.

Bohn's company promised to save some jobs being erased by the shutdown of a company called Telespectrum Worldwide, the former occupant of the Great Arrow Drive building.

Empire State Development Corp. awarded the company $350,000 for preserving 400 jobs at the former Telespectrum building. The Buffalo and Erie County Workforce Investment Board granted an additional $234,000 to help train 395 workers.

Bohn denied that the grant to AMS funded training of Lenahan workers, although he says he does not remember whether all 395 trainees covered by the training grant were on the AMS payroll. "I don't think we were ever sharing employees," he said.

The subsidies for AMS of New York came during a rush to replace jobs being erased at Telespectrum, officials said. James Finamore, director of the workplace training agency, said Erie County Executive Joel A. Giambra made a special appeal.

"The county executive sent us a letter [urging] to do anything we could for laid-off Telespectrum employees," Finamore said.

Empire State Development is suing the company in an Albany court to get its money back.

Who was in charge?

In court papers, the owners of the Lenahan firm, John D. Lenahan and his daughter, Danielle, painted a different picture of their links with Bohn's company. Their testimony was compelled by lawsuits in Maine and Texas.

Bohn and MacKinnon's company did more than supply accounts for collection, the Lenahans testified - it also hired the workers, provided office space, handled the money and kept the records.

The father-daughter team and one associate were the only lawyers at the firm, they said. The attorneys worked in a small office in West Seneca, separate from offices where the collectors worked.

The lawyers were supposed to train and monitor employees, but they were not even aware of all the offices that operated under their name. Danielle Lenahan said she learned of one Amherst location after seeing the address cited in a lawsuit against her.

"I was shocked," she said.

In return for supervising collectors, the Lenahan firm was supposed to receive a cut of the take, a deal that yielded $5,000 to $10,000 a month, the Lenahans said. The offices took in anywhere from $1 million to $6 million a month, they said.

Asked how many times he had been sued for collection activities, John Lenahan testified, "I couldn't even guess."

In an interview, Danielle Lenahan defended the firm's collection record. She said her offices made dunning calls on thousands of debtors, so some complaints are normal. "It's part of the business," she said.

The court penalties against her and her father lack foundation because the lawyers were not able to defend the cases, she said, leading to one-sided "default" judgments.

"Those were just allegations," she said, declining to comment on individual cases. John Daniel Lenahan did not respond to requests to comment.

But judges and regulators across the country decided that they had seen more than allegations.

Bankruptcy Judge Trish Brown in California called the firm's tactics "egregious" for threatening a woman whose debts had been erased in bankruptcy. The collector falsely said that "prosecuting attorney Lenahan" had filed a case against the woman. And the threat, implying criminal charges, was left on her mother-in-law's answering machine.

Ignoring a state's ban

Maine's consumer credit regulator banned Lenahan from calling the state in 2004 after seeing a pattern of threats, but even that did not end the calls. After the ban, someone from the firm tried to collect $1,800 from a woman who owed about $500.

"Testimony from witnesses revealed a clear and consistent pattern of illegal behavior on the part of Lenahan's collectors," Lund wrote after a hearing in 2004.

Federal Judge Julie E. Carnes in Georgia penalized the firm $135,000, including $50,000 in punitive damages, after hearing Mary Ekers' story. Ekers, a disabled factory worker who needed a wheelchair and an oxygen tank to get to court, said Lenahan took more money from her checking account than she authorized, using an account number she had provided as part of a payment plan.

When she complained, the collectors threatened that she would be hauled into court. Three other Georgia residents supported Ekers' story of being threatened by Lenahan workers.

"She slept dressed in her clothes because she was afraid the deputies would come, and she didn't want to go to jail in her nightgown," said Ekers' attorney, Kris Skaar.

How could licensed attorneys pile up a record of misdeeds in plain sight and keep going for years?

Maine regulators would like to know the answer. Lund said he filed a complaint with lawyer overseers after banning the Lenahan firm in 2004.

"We sent a complaint to them right away, because there were pretty clear violations of federal and state law," Lund said. "We were expecting a pretty quick response, and we didn't get it."

The Attorney Grievance Committee, an arm of the state appeals court, investigates allegations of attorney misconduct. Deputy Principal Counsel Vincent Scarsella said committee rules block him from discussing any particular case. This confidentiality rule protects lawyers' reputations from groundless complaints, he said.

The committee may take "a week to two years" to complete an investigation, he said, before taking action against a lawyer.

"That's the process - it sometimes takes a long time," he said, "but . . . it's the guy's livelihood."

No hard-and-fast rule defines how much involvement lawyers must have in a firm that bears their name, making it difficult to crack down on collectors that masquerade as law firms.

"Different courts have said different things - it's kind of a gray area," said Cindy White, executive director of the National Association of Retail Collection Attorneys in Washington, D.C. "We do have firms with hundreds of employees and only a few attorneys."

In April, six months after withdrawing from the collection operation, John Lenahan, age 75 and semiretired, gave up his law license, ending whatever disciplinary action he might have faced. Danielle Lenahan would not comment on whether she faces disciplinary action from the grievance committee.

The Lenahans say they have dropped their collection business, but some of their former offices continue to operate under new names.

Timothy Collins said he took over a former Lenahan office in Amherst, hired its workers and started collecting debts for Bohn and MacKinnon in the fall of 2004. Collins Law Office, with 35 collection workers at two locations, now brings in about $400,000 a month.

Collins said his offices are improving their compliance record, now that some former Lenahan workers have left. "I think its better now than it was at one point," he said. "I feel a lot better than I did a year ago."

Murky standards for firms

Lawyers have built-in advantages when it comes to getting money out of people. States frequently waive license requirements for lawyers that they impose on other collectors.

More important is the leverage that comes with being an attorney. Debtors who get a call from a law office may envision a courtroom in their future. They probably don't picture a call center. However, vague professional standards allow collection operations to wear the mantle of a law firm, whether or not they perform courtroom work.

Courts have said a lawyer needs to have "meaningful involvement" with an office, said Eric Berman, a Long Island collection attorney and a director of the collection attorneys association, but there is no specified ratio of lawyers to nonlawyers.

"The key thing is supervision," Berman said. At large firms, many clerks and paralegals pitch in with the work. He said, however, that "all this stuff is being done under auspices of lawyers."

It is not necessary for a law firm to spend much time in court to be legitimate, he added, since some firms specialize in settling cases. Lenahan collectors dunned people across the country, although the lawyers were licensed to practice only in New York and Florida.

In December, John and Danielle Lenahan filed for bankruptcy, putting claims against them on hold. Some victims of abusive collection tactics are going after Bohn's company, but it's unclear whether the penalties will be paid.
---
Can debt firms call neighbors?
By Dave Lieber Star-Telegram Staff Writer

STAR-TELEGRAM/RON T. ENNIS
Fort Worth attorney Jerry Jarzombek represents debtors in cases against
collectors. Last month he filed a federal lawsuit on behalf of a Bedford
mother and daughter who assert they were illegally threatened by a New York collection agency. On a residential street in Kennedale, neighbors were getting phone calls asking about other neighbors.
Tiffany Dow was asked about a neighbor's son.
She remembers asking, "Oh, is this an emergency? Because I can run over and tell them."

"No," came the answer. "We're a credit collection agency. We're trying to track him down."

"How did you get my number?" Dow asked.

She was told that her name and address were on the Tarrant County tax appraisal district's Web site and that her number was in the phone book.

"So," Dow remembers replying, "you're calling neighbors to collect your
debt? That's ridiculous. I can't believe you're doing that. Don't ever call
here again." And she hung up.

Dow, who said she couldn't remember the company's name, wrote The Watchdog and asked if such calls are illegal.
The answer, in this situation, is maybe. Debt collectors can call a
neighbor, identify themselves as a debt collector if asked the name of their company, and explain that they are trying to find someone, according to federal and state laws. But they are not allowed to disclose any information about a debt.

Calls like those in Kennedale now happen more often, industry observers say. Contributing factors include growing consumer debt, new restrictions on bankruptcy filings and the booming collection industry, which is growing almost as fast as the debt.

Tom Kelley, a spokesman for the Texas attorney general's office, said
complaints about overly aggressive debt collectors are increasing.

Another neighbor on Dow's street, Christine Williams, described a call that may have skirted the legal line.

Williams said she got a call from Ford Motor Credit Co. asking about another neighbor. According to Williams, the caller said, "We want to know if the people are still living there, and if they are still driving the truck."

That question about the truck, some experts say, is possibly illegal because it gives the neighbor too much information.

"I don't think we would go so far as to say, 'Does he drive the white
truck?'" said Louisville, Ky., lawyer Donald Haunz, who works at a law firm that represents collection companies. "We would say, 'We are trying to locate Mr. Smith and do you know him? And do you know if he still lives at blah-blah address?'

"We would try to be as unobtrusive as possible. But we would ask questions that help us locate him."

A Ford Credit spokeswoman said its debt collectors are supposed to ask
neighbors for accurate contact information. "We would never discuss the particulars of a certain account with someone we called," Meredith Libbey said.

Beth Givens, director of the Privacy Rights Clearinghouse in San Diego, said that callers cannot tell neighbors that "the dirty rotten scoundrel across the street is not paying his bill," but that it doesn't take much for a neighbor to figure out what is going on.

She said consumers seeking legal representation in battles with debt
collectors can visit the Web site for the National Association for Consumer Advocates ( www.naca.net) to find a lawyer with that specialty.

Doing that, I found Fort Worth lawyer Jerry Jarzombek. He told me that if a collector has already contacted the debtor and discussed the debt with him or her, then the collector is not allowed to contact neighbors. That could be considered harassment, rather than searching for information, he said.

"The key in making that determination is whether they are really looking to see if the guy really lives there," he said.

"I am someone who has a problem with somebody trying to use abusive tactics to scare money out of someone," he added.

Last month, he filed a lawsuit in U.S. District Court in Fort Worth on
behalf of a Bedford mother and daughter who, according to the lawsuit, were illegally threatened by a New York collection agency.

Jarzombek declined to discuss the lawsuit, but according to the court
filing, a debt collector who works for Creditors Interchange on behalf of
Capitol One called a neighbor of the family and stated "that she was working with the Bedford police to make an arrest within the next hour."

Bedford police Lt. Kirk Roberts told me that police do not get involved in civil matters such as debt collections. Bedford police also have no records of any investigation involving the family, he said.

According to the lawsuit, the neighbor went next door, "shaking and crying," to relay the message.

The next day, the suit asserts, the debt collector called the family and
threatened to file fraud charges related to their use of a credit card.

According to federal law, it's unlawful to claim that someone who owes a debt committed a crime or could be arrested.

I called the debt collector named in the lawsuit, but she declined to
comment. I also called Creditors Interchange, and a spokesman said he would call back but he never did.

Creditors Interchange was ordered by New York Attorney General Eliot Spitzer in 2004 to pay $60,000 in civil penalties for "illegal debt collection practices," according to a Spitzer news release.

The company was also ordered, when dealing with New Yorkers, to cease violating federal and state laws, to monitor and record collectors' phone calls and to make sure that senior management reviews all complaints.

When I asked Givens of the Privacy Rights Clearinghouse why federal and state laws don't prohibit calls to neighbors, she answered that industry lobbyists are powerful in Congress and state legislatures.

"They have a lot of money and a lot of influence," she said. "But they're
not universally beloved."

News researcher Stacy Garcia contributed to this report.

To file a complaint

If you receive calls from debt collectors that you believe could violate the law, contact the Federal Trade Commission at 877-FTC-HELP or the Texas Attorney General Consumer Helpline at 800-621-0508.